Live Acoustic Performances
Soundcheq are a uniquely entertaining acoustic band with a vibrant sound. A local Melbourne Trio consisting of Matthew Spiteri (DJ Genesis), Alan McAlindon and Steven Paris, using drums, rhythym and lead guitar. Focusing mainly on acoustic covers, they are a perfect live music accompaniment to your event.
Available for Hotel,Clubs, Private and Corporate Events, perfect for Bars, Restaurants and Weddings.
Covers
Matthew Spiteri / Dj Genesis
Drums / Percussion / Vocals & MC
Matthew Spiteri has always had a love and passion for music and entertainment. From a young age he was inspired by all types of music styles. Matthew begun to play the drums as a child and continued to play through high school.
Matthew Studied music performance, drama/theatre and music Industry skills at Mackillop College in Werribee. After graduating he perused his music and entertainment career and
established Genesis Entertainment, Matthew DJ Genesis has now built a entertainment company offering premium DJ/MC services, Tribute Shows, Photobooths, and now Live entertainment with"Soundcheq".
Matthew has independently turned Genesis Entertainment into one of Melbourne's most unique and interactive entertainment companies, providing customers with everything they will need to make their special event a night to remember. Matthew states "I want to offer customers & venues, what I would expect as a customer which is quality service, fantastic entertainment and memories to last a life time."
Matthew DJ Genesis is an interactive DJ and entertainer who can sing, dance and play the drums, his high energy entertainment will create the perfect setting for a unforgettable event or celebration.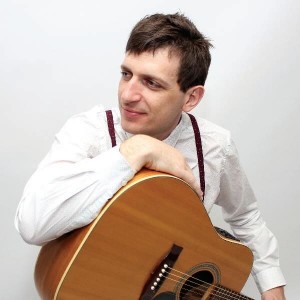 Alan McAlindon
Rhythm Guitarist / Vocals 
Alan has always been a big fan of classic rock, loving the raw sound of electric guitars and jaw-dropping solos. Influenced by bands such as AC/DC, Guns N' Roses, The Clash, The Police and INXS, Alan (with some encouragement from those around him) finally decided to start playing the Guitar.
The love and desperation of wanting to play like those artists encouraged Alan to learn quickly. It wasn't long before Alan could play most of the hits from those bands from start to finish, as such, it wasn't long before he wanted more!
After a year or so playing alone, Alan finally decided to start a band and from there met several other talented musos. Alan has played in several bands over the last 10 years, mostly cover bands playing top 40s and classic rock at several locations around Melbourne.
Alan's last band saw him team up with Steven Paris (Lead Guitarist of Soundcheq) and the combination of them working the stage together brought a dynamic and fun element to their performance. Since that time, they have continued to play guitar together and have developed a perfect blend of sound, performance and excitement.
Alan now plays for "Soundcheq" as it allows him to play a great range of music spanning many years and put on an exciting show for his customers.
Steven Paris
Lead Guitarist 
For Steve, music is a way of life. Being brought up listening to bands such as Led Zeppelin, Dire Straits and Cold Chisel, Steve learnt to appreciate the art of music in his childhood years. However it wasn't until high school that Steve had the opportunity to play his first guitar.
With a passion for playing and a determination to persevere, Steve quickly taught himself how to play acoustic guitar and the interest that was sparked during his childhood was now taking hold. His skill with the guitar allowed him to tackle songs such as "Stairway to Heaven" and "Babe I'm Going to Leave You" within his first year of playing and he continued to learn and play throughout and after high school.
Whilst Steve was content with playing guitar as a hobby and offering his music to festivals as light entertainment, he found a new love of music when he was given the opportunity to play in a live band with his long time friend, and rhythm guitarist of "Soundcheq", Alan McAlindon. It was the first time that Steve picked up an electric guitar and yet he applied the same passion and dedication to his playing that he did when he played his first acoustic guitar many years before.
With the history and jovial chemistry between Alan and Steve, "Soundcheq" is able to offer something not seen before that will keep guests entertained for hours.
Steve now continues to play and increase his skill with both electric and acoustic guitars and is able to offer his skills to suit any customers needs.